from entrance
presentation sketch of site plan
presentation sketches of several views of the house
north side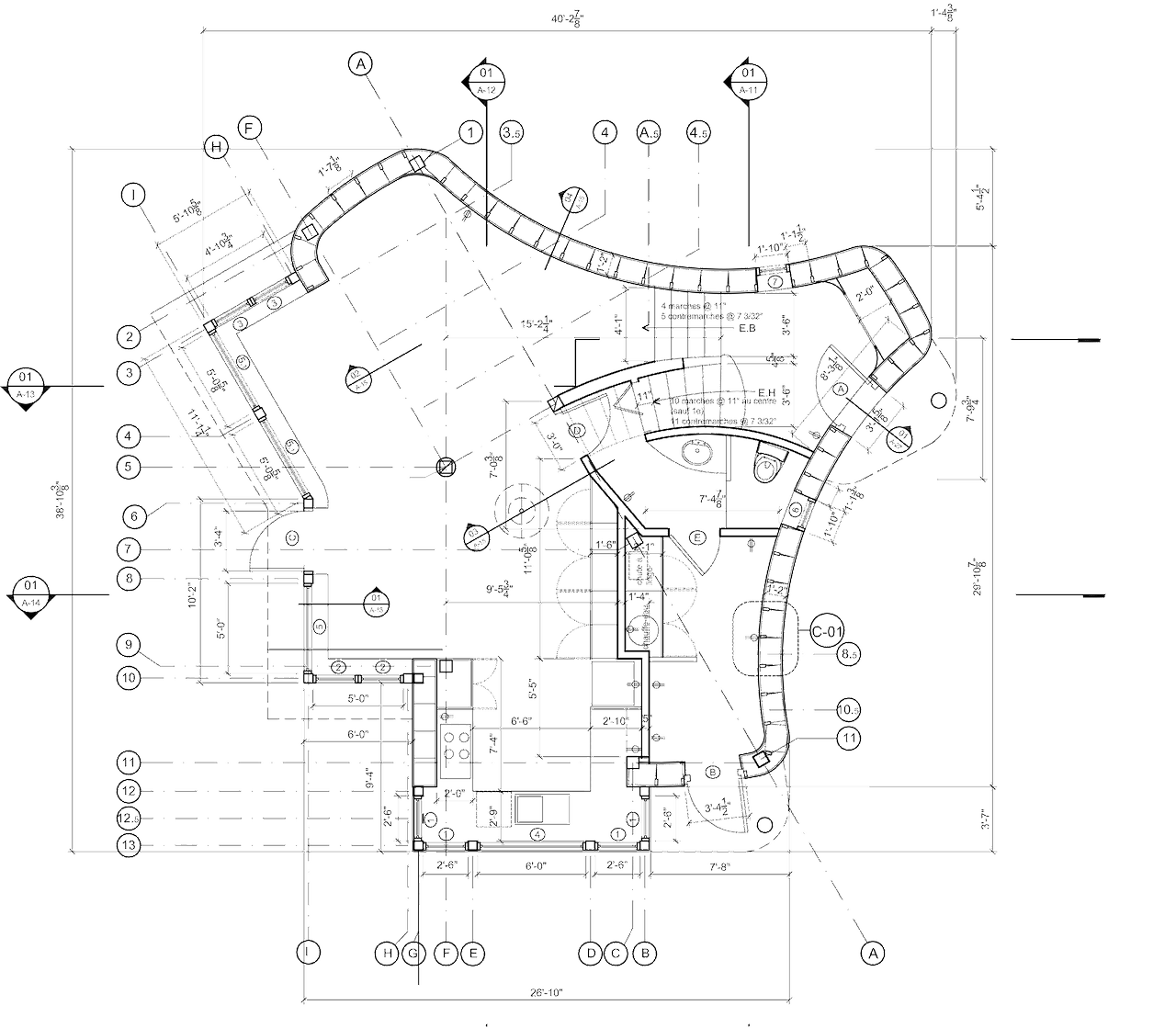 south west side
The original mandate was to design a small country house as primary residence onto which a bed & breakfast could be added on in the future. The house's placement took into account this eventuality. The main living space and the large windows of the ground floor are orientated towards the river on the southwest part of the site.
The clients specifically requested a straw-bale house. The form of the house is created with curved walls that accentuate the malleable quality of straw-bale construction. They serve three other purposes. First is to create fluid, spacious movement and a corner-less feel through the small space. The second is to enable the larger concave walls on the outside to become landscaped niches. The third is to allow the bales to be inserted between the framing without having to be trimmed down, an innovative straw-bale technique designed specifically for this project and the first to be built in this way. The technique was profiled on Radio-Canada's science program Découverte.
Some other key eco-features:
The exterior and interior walls are made with local straw and clay from the site. The ground floor has a layer of clay over concrete base in which is embedded radiant hot water tubes. Passive solar heating plays a significant role in energy conservation. The structure is made with recycled wood posts and a tree trunk from the site. Green roofs are intended on the three one-storey areas. All finishes are non-toxic.
The bale construction and finishing was executed by the owners including the elaborate application of the clay on the exterior and the waterproof tadelakt plaster, a traditional Moroccan technique, in the bathroom. Over 50 volunteers contributed to the construction.
Location: St-Catherine de Hatley, Québec
End of project: 2005
Building Area: 700sq.ft
Builders: Marc Chabot and Sylvie Plaire
Collaborator: Archibio- Michel Bergeron
entrance with solid wood doors that were originally to lead to the bed & breakfast
Tatalak plaster sinks and shower
Tatalak plaster railing, slate tiles and the truth window. The truth window is a small patch without plaster that reveals the straw wall construction.
ammonite embedded in tatalak plaster railing
under construction: post & beam and framing structure
under construction: straw-bales inserted in curved wall's framing
under construction: interior cob partition wall
under construction: straw-bales in place in the bedroom
under construction: participating in the straw-bale installation with volunteer and clients child